INTUITIVE SHAMANIC COUNSELING AND HEALING
Aumdoc provides compassionate healing counsel for personal problems, life transitions and to facilitate spiritual growth. He is available to individuals, or couples, and has twenty years experience helping patients through many difficult issues.
Aumdoc explains, "Throughout my years of caring for women I have found that some of the most powerful healing experiences we have shared came through my bodywork and counseling. I am creating my own healing space, separate from my medical practice, where I can more deeply engage these healing modalities with those I care for."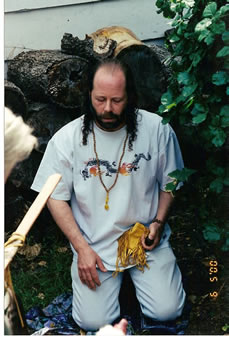 More information will be here shortly!
Aumdoc's article: Urban Shaman?
Aumdoc's article: (Your) Two Medicines Are Better Than One
I first learned what shamanism is in the early 1970's but the full richness of my understanding came about through intensive study started in 1991. Since that time my interest has been in how shamanism relates to my life in the modern world.
This is an important question for me because I definately feel very resonant with the practices of shamanism.