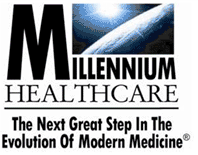 Millennium Healthcare & 'Temple of Health'
Listen to Temple of Health Radio Show!!
Saturdays from 12 noon to 1 pm
TO LISTEN TO LIVE OR ARCHIVED SHOWS GO TO WWW.PLASTIKOS.COM
AND FOLLOW LINKS TO TEMPLE OF HEALTH RADIO SHOW
Millennium Healthcare is our group holistic medical practice with offices in Alpharetta and Dunwoody, Georgia. Millennium Healthcare is a cutting edge facility for alternative and holistic healthcare. Millennium Healthcare was founded through the vision and courage of my associate Susan Kolb, M.D. Our concept is based on conventional medicine and alternative medicine working hand-in-hand to provide patients with an integrative model of care. We are a center of excellence for interdisciplinary complementary care.
The physicians and practitioners provide a model of care that blends Western and Eastern approaches with emerging medical treatments from science. We strive for a combined, focused and intelligent approach. Millennium Healthcare strives for the best doctor/practitioner-patient relationship as we realize this is the foundation of our healing work together. Our goal is to provide comprehensive and compassionate integrative care in a tranquil and healing environment.
Educating patients about their condition, and how to take personal responsibility to create optimal healing, is paramount to our approach. We use our collective abilities to advance the understanding and development of healing techniques. We want you to get the best of all alternatives so you see results and resolution of your problems.
Temple of Health radio show supports our vision at Millennium Healthcare. Dr. Susan Kolb founded this radio show as "Dr. Susan On Call". We changed the name to Temple of Health in 2002. It is our great pleasure to bring you conversations with national and international experts on the cutting edge of healing. The topics covered include Holistic Medicine, Alternative Medicine, Spirituality and the interface between spirituality and healing (i.e. Spiritual Medicine).
Here is why we have named our radio show "Temple of Health"…
~~~~~~~~~~~~~~~~~~~~~~~~~~~~~~~~~~~~~~~~~~~~~~~~~~~~~