No Scheduled Circles of Healing
in April 2009
-- Every one is Welcome! --


Come... and be... nurtured,

by our eclectic and relaxed

approach to ceremony!

Participate at YOUR comfort level.

------------------------------

Aumdoc NEVER charges a fee for Ceremonial Community Offerings!
(Donations are GREATLY APPRECIATED to support the work and cover costs)

------------------------------
About these CIRCLES OF HEALING...
I am a ritualist and facilitate Community Ceremonial Offerings.
In 2000 I completed a series of 60 Full Moon Fires at a home I owned in Lilburn, GA. I am currently holding a series of
49 Circles of Healing. This is my shamanic training ground to learn how to better facilitate these Sacred Spaces. The
first 3 series of Seven Circles were intentionally held in a wide variety of circumstances to facilitate a broad and diverse
learning experience. Coordinated with the opening of Aumdoc's Lotus Healing, I am now intentionally holding
the circles regularly at Harmony Learning Center in Decatur, Georgia. With a background of diversity I now move the
Circles toward a more stable regularity.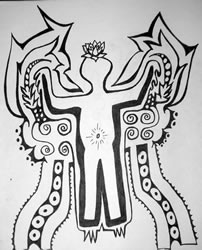 Thank You, James!! Here I offer my gratitude to friend and teacher, James Williams, OMD (www.andeancodex.com) for inspiring and assisting my initiation into The Path Of Ayni. AYNI is a word in quechua (native language of the Andes) that means SACRED RECIPROCITY. It is a concept worth building a life upon. Reciprocity and balance in energy flow... between us and Mother Earth and between one another. I highly recommend James work as a Integrative Medicine Expert and Shamen. His book The Andean Codex, Adventures and Initiations Among the Peruvian Shamans is an excellant read and is an important
spirit guide for me.
More about the first 21 circles here.
What is the intent of these CIRCLES OF HEALING? AYNI!
They last about an hour and are relaxed and comfortable.
No special rules or fancy etiquette to worry about, everything is explained as you are guided through the circle.
No prior experience or preparation necessary; these circles are ALWAYS welcoming to beginners.
Sit on a chair or on the floor, whatever is comfortable. Participate at YOUR level of comfort.
Each Circle is a little different.
The focus of the circle is HEALING so I recommend you bring a specific intent for healing self, other, tribe or planet.
At some Healing Circles I have been to, one individual is brought to circle center and the Circle as a whole focuses on their
healing. I have had very powerful experiences at some of these event but it is not the work I am drawn to presently.
At this Circle we have the individuals focus on the Circle as a whole (moving from the personal to the archetypal).
The details and drama around each of our individual circumstances are issues that can divide our focus. If we went around the circle and spoke about each persons issues in detail we might be there all night. This Circle helps us to move together out of our everyday pain and drama around the situation and into a energetically healing space that is so powerful we can momentarily be swept away and fed by it. This is the power of the Circle... much more then the sum of its parts.
We can allow that which is no longer needed to be swept away by The Circle.
We can draw life-force energy (qi, prana, etc) from The Circle and be filled.
We are ALL healers. Our bodies know wellness and are fully capable of self-healing.
This circle empowers us to embrace our innate healing power and become more self-responsible for healing ourselves, others and the planet.
What is the format of these CIRCLES OF HEALING? Eclectic!
We gather together and Sacred Space is declared.
One purpose as facilitator is to bring grounding to the group moving us all into a willingly shared experience.
Some movement or voice exercises usually help us loosen up with each other and get a little more comfortable.
We chant AUM at the begining and end of the Circle.
You are led through several ways of quieting the mind (such as guided meditation or creative visualization).
This helps us all to move into the present moment.
We move through periods of silence interspersed with music, drumming or other vibrational methods. During this time the group energy rises to wash over us. That space of healing within each of us recognizes the other and they resonate harmonically.
Near the end of the circle we share a little of our intent and experience.
People often hang out and talk a while after The Circle formally closes.
Please bring a reading, poem, song, poem or artwork to help share your hearts gratitude with others.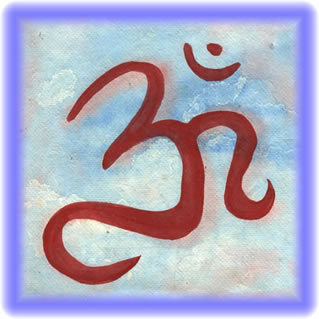 LOVE MANTRA FOR LETTING GO
I bless you
I release you
I set you free
I set me free
I let you be
I let me be