URBAN SHAMAN SERIES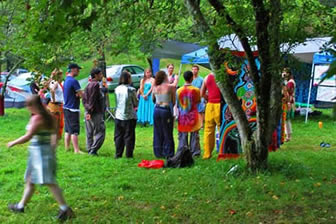 Ancient skills and wisdom,
cultivated properly,
to bring fruit to the modern urban dweller.
The ancient practice of Shamanism can be studied from a modern
cross-cultural perspective. Around the world indigenous medicine people,
deeply connected to Mother Earth, access unique information via non-
ordinary states of consciousness for the benefit of an individual or
community. While manifest in many ways by different cultures, there
are common aspects of these practices that we can study, experience
and benefit from. There is wisdom here to help us live better lives and create
a healthier planet.
Modern America is not a shamanic culture, we have no traditional shamans. Interest in shamanism is strong and growing in modern America as manifest by the many books, websites, magazines, teachers, drum circles and festivals related to this topic. Many individuals have a deep intellectual interest in, and personal resonance with, aspects of the shamanic worldview. Timothy White, the former editor of Shaman's Drum magazine, described these individuals as "shamanists". I think this might be very clear and helpful in distinguishing these individuals from true indigenous shamans. Urban dwellers, through study and practice, can
develop skillful insight into shamanic practices that are practically useful for
sanely navigating the modern world, in healing work, as well as for creating
a healthier self and planet.
Aumdoc's Urban Shaman Series will explore core shamanic concepts and skills for the modern urban dweller. The seven session series is best if taken as a whole, yet each session can be taken independently. Each session includes both teaching and experiential training, be prepared to participate. Expect to connect more deeply to Mother Earth, expand your mind, open your heart, develop useful skills and continue the process of re-enchanting your life.
Aumdoc (Rick Clofine, D.O.) is a Holistic Physician with a life long interest in shamanism and natural healing. His interests in meditation, and other non-ordinary states of being, were initiated prior to entering college when he spent five years as organic farmer. He has spent 20 years studying cross cultural shamanism with several teachers. Aumdoc held a series of 60 full moon fires from 1995-2000 and is currently facilitating a series of 49 Circles of Healing in Metro-Atlanta. Contact him at aumdoc@aumdoc.com or call 770-633-4257. More information at www.aumdoc.com.
AUMDOC'S URBAN SHAMAN SERIES
At Harmony Learning Center
NEW FEE STRUCTURE = NO FEE STRUCTURE = AYNI (click for info)
Every other Tuesday night, 8-10pm, starting 2/10/09.
Session 1: Overview and Setting Sacred Space
(2/24/09): Originally scheduled for 2-10-09, date change is due to a passing in Aumdoc's Family.
Session 2: Mesa's and Medicine Bags
Session 3: The Medicine Wheel
Session 4: Ritual & Ceremony
Session 5: Shamanic Journey
Please bring Eyeshades (bandana is fine).
Session 6: Sacred Plant and Stone Medicine
Session 7: Shamanic Healing